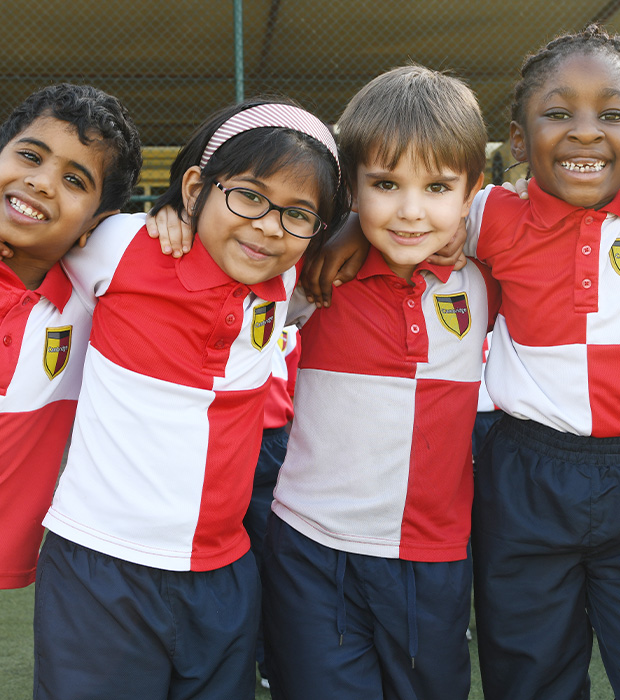 Inclusion
The Cambridge High School is an inclusive school. The GEMS vision for Inclusive Education is that we achieve excellence together by all students receiving the support they need to meaningfully belong to their school and wider community, feel valued for their contributions, engage purposefully in learning and experience academic, cultural, social and emotional success in a common learning environment.
At the Cambridge High School, we welcome children with a range of learning preferences, including students of determination (students with special education needs and disabilities), students who are gifted and talented and students who are English Language Learners. Our staff are committed to educating all students in a common learning environment with similar-aged peers. At the Cambridge High School, diversity is made visible as a strength, respectful relationships are continually enhanced and all children fully participate in learning through adjustments and teaching strategies tailored to meet the diverse range of learners reflected in wider society.
Sharing educational history with The Cambridge High School prior to a place being offered is essential so that staff can ensure an appropriate assessment of educational need, educational plan and resourcing is in place. We have successful transition processes in place for all children.
Students are not refused admission based only on their experience of a special education need or disability (SEND) and we give sibling priority for admission to students who experience SEND. Staff follow ADEK guidance and procedures for scenarios where, very rarely, it may not be in the best interests of the child to be placed in The Cambridge High School. This information will be shared with ADEK, following expected procedures. We value parents support and team work.
At CHS we are proud of our efforts to meet the needs of each student. This includes students who are identified as gifted and talented, and students who have identified barriers to learning.
Learning challenges or disabilities.
Second language acquisition concerns or Social emotional concerns.
Our FS 2 to Year 13 team of professionals includes Learning support Teachers, English language learning and SEND classroom support.
School Counsellor
Social Worker.
Accessibility for Students of Determination
Submitting a medical report/school psychologist report stating the specific need of the learner.
Submitting a report from a specialist stating the intervention/therapy attended by the learner.
Parents and learner expected to attend a meeting with the Head of Inclusion and the specific Phase Leader prior to enrollment.
The school does not offer the use of elevators.
Parent/Guardian and learner expected to attend a mainstream classroom for three hours to evidence compliance and the age level expectations.
Once enrolled, the learner is expected to be accompanied by a trained Learner Support Assistant.
In case the learner requires any medication and/or physical support during the school day, during Physical Education and on the stairs, the parents must request such support in writing.
Early Years age appropriate expectations to be met.
Classroom teacher feedback after three hours' visit.
Head of Inclusion feedback after three hours' visit.
Review enrollment after one month – to be extended to three months.
Parent support and team work guarantees success.
Key Staff Members of Inclusion Department