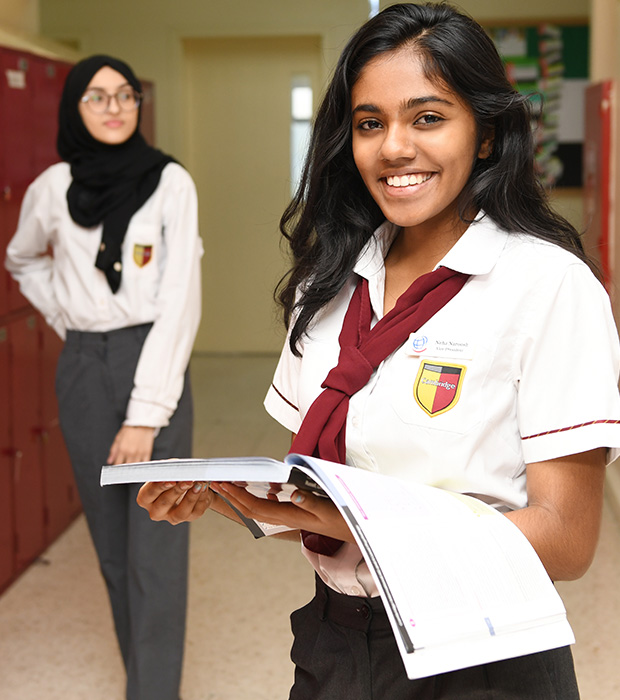 Curriculum Overview
We are an international UK curriculum school, offering skill-based and value-based learning to students, from 4 years old up to 18 years old.
Curriculum: National Curriculum of England
The Cambridge High School, Abu Dhabi follows the National Curriculum of England. This Curriculum, commonly known as the "British' National Curriculum, provides students with an education that is recognised and held in esteem around the world. It is a skill-based curriculum, served by many excellent textbooks and resources, with its own testing mechanism. It fits into the English public examination system (GCSE, AS & A Level), which is accepted by universities throughout the world.
The Cambridge High School, Abu Dhabi is a school with a difference, providing our students with care, direction and opportunities. Our programmes encourage the personal, social, physical, ethical and academic well-being of all our students as they strive to achieve their full potential. Our educational programmes are designed to:
Offer modern and relevant curricula and authentic instruction consonant with The National Curriculum for England.
Foster in all our students a keen interest in learning and in striving for the highest levels of academic achievement.
Help our students acquire the knowledge and skills relevant to life in a dynamically changing world, and to use these skills effectively and efficiently.
Instil in our students a respect for moral and ethical values.
Provide our students with a safe, happy, nurturing and learning environment.
Offer our students a range of activities and opportunities to promote excellence, success, confidence and self-esteem
Help our students develop lively, enquiring minds with the ability to question, reason rationally and apply themselves to tasks and physical skills.
Actively encourage our students to be appreciative of and sensitive to different cultures and traditions.
Provide our students with opportunities to develop their skills in both cognitive and affective areas of education.
Provide our students with the care and direction that will encourage personal, social, physical, ethical and academic well-being
Maintain frequent constructive and open relations with our parents in recognition that education is a partnership. We offer our students a wide variety of co-curricular and extra-curricular programmes designed to ensure opportunities for all students to participate.
Course Options
At The Cambridge High School, the curriculum, organized on the basis of "7 stages", is detailed, planned and integrated covering a child's whole school experience, from the age of 3 to 18.
| | | | |
| --- | --- | --- | --- |
| Key Stages | Age | Year Groups | Performance Levels |
| Foundation Stage | 3-5 | FS-2 & 1 | |
| Lower Primary | 5-7 | 2-3 | 1-3 |
| Upper Primary | 8-11 | 4-6 | 2-5 |
| Key Stage 3- Secondary | 12-14 | 7-9 | 3-8 |
| Key Stage 4 | 15-16 | 10-11 | IGCSE defined |
| Advanced Subsidiary (AS) Sixth Form | 17 | 12 | AS level defined |
| Advanced (A) - Sixth Form | 18 | 13 | A level defined |
In accordance with the directives of the Ministry of Education, UAE, the following subjects are integrated in the Curriculum.
Arabic Language
Arabic is compulsory for all non-Arab students from Year 2 through to Year 13.
For Arab students it is compulsory through to Year 13.
Two levels of Arabic are offered at each Year level: 1st Language Arabic and 2nd Language Arabic.
Islamic Studies / Personal & Social Education
Islamic Studies is compulsory for all Muslim students through to Year 13. Islamic Studies is available in Arabic for Arab Muslims and in English is for non Arab Muslims. For non-Muslim students through to Year 9, Personal, Social, Health and Citizenship Education is compulsory.
Moral Education
Moral Education is compulsory for all students starting from Year group 2 till Year group 13.
For each subject and for each Academic Stage, very detailed programmes of study set out what students should be taught and attainment targets set out the expected standards of students' performance.
Acknowledged for its high academic standards and its well-rounded approach to education, the curriculum provides students with transferability and the opportunity to gain access to reputable universities, worldwide. Students from The Cambridge High School have been accepted to prestigious universities around the world.