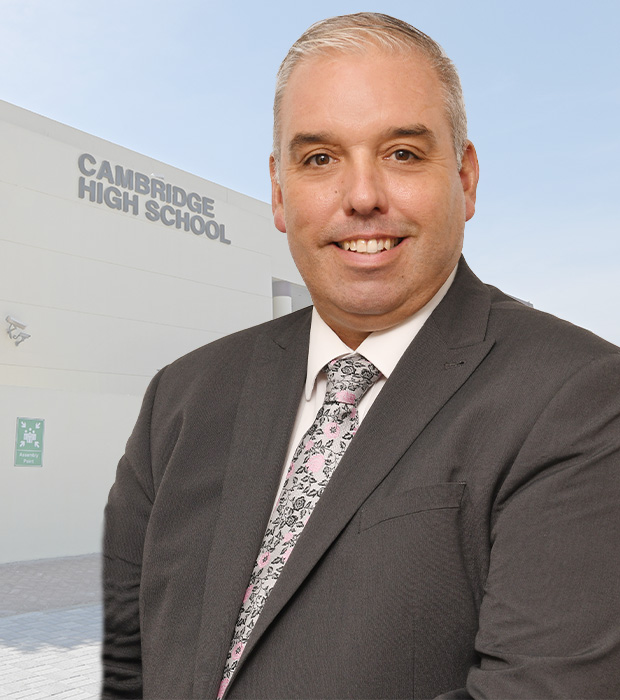 Welcome message from the Principal
Mr. Stephen Brecken
On behalf of the staff, the students and myself I welcome you to the GEMS Cambridge High School, Abu Dhabi. We are a highly successful, extremely popular and oversubscribed school for boys and girls aged 4 to 19, with a strong reputation in both the GEMS Education group and Abu Dhabi.At Cambridge High School, we aim to provide an outstanding education for all of the students in our care, and we do this by providing a learning environment, which is inclusive, ambitious and challenging. We are very fortunate to have outstanding students, who come from all corners of the world, and who thrive in our rich, vibrant and diverse school community.
We believe in creating a culture within the school where our parents and students know us, like us and, most importantly, trust us. Our teachers know their students well and encourage each of them to reach their full potential and achieve their aspirations. We want every student here to have the opportunity to learn about themselves, the world and to shape and develop the role they will play in the future. We follow the GEMS education mantra and 'see genius in every child'.We are a busy, caring and supportive school, which values praise, enjoyment, respect and honesty in all we do. A rich programme of extra curricular provision provides chances for the students to develop outside of the classroom, particularly in skills of confidence, teamwork and leadership.
Life at Cambridge is a seamless journey from age 4 through to sixth form and the experiences gained will have a lasting value. We aim to develop young adults who leave the school with a secure sense of identity, a respect, tolerance for and understanding of difference and diversity, academic success and as well-rounded, confident young people who are ready and able to embrace the challenges and opportunities of adult life.We are very proud of our school and especially proud of our students. Please feel free to visit us at any time and see our wonderful school for yourself. We would be delighted to meet you and welcome you into the Cambridge and GEMS 'family'.
Stephen Brecken
Principal / CEO